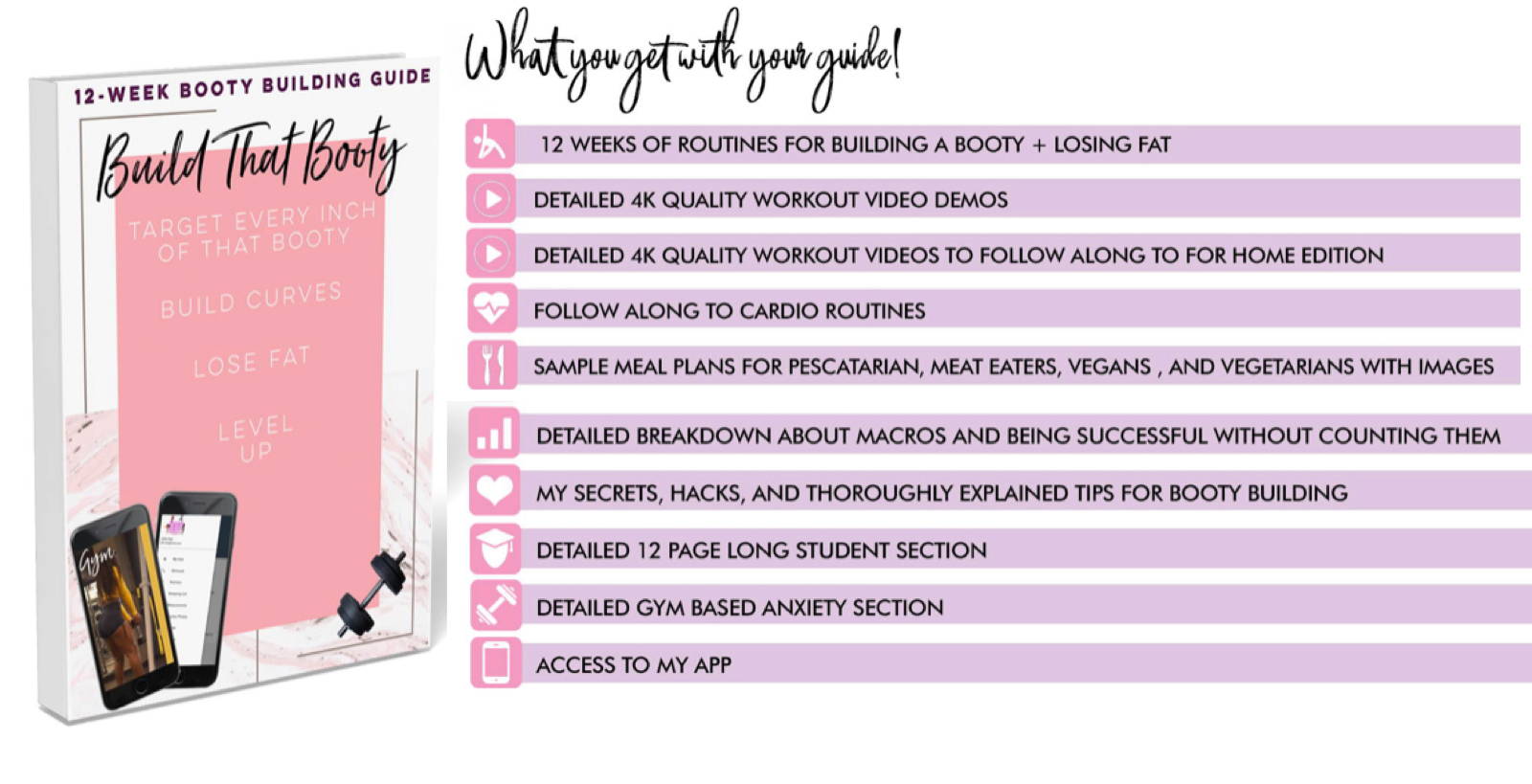 Question: What kind of people would this ebook work for?
Answer: Anyone looking to build that booty ! I highly recommend this ebook to anyone who wants to lose a little fat and build their glutes, or any slim/petite babes who want to build their glutes and target hip dips! I do not recommend using this ebook if you want a more drastic weight loss! Use my 30 Day Fat blaster first and then move onto my Booty Building Ebook!
Question: What equipment is required for home and gym edition?

Answer:

HOME: Requires resistance bands! You can purchase a booty band set from thexbands.com and get 10% off of your order with the code: bodybytati , OR you can cop some from NastyFitt.com and use my code Tati10 for 10% off!
GYM: Requires ankle cuffs and resistance bands ! If you cant afford to get both then definitely opt for resistance bands ! You can always DIY ankle cuffs with some fabric (will post a tutorial on my youtube channel BodyByTati)
You can get either of these items on thexbands.com and use my code bodybytati for 10% off! OR you can get them as nastyfitt.com and use my code Tati10 for 10% off!
Question: Is the home edition or gym edition better?
Answer: Both have the potential to yield amazing results! Having access to a gym is always better because progression in weight (which equals muscle growth) is much easier to do in a gym versus at home where you're limited to different levels of bands! I say to go which whichever environment you're more comfortable with but also understand that its okay to step outside of your comfort zone!
Question: How can I be sure that I will see results?
Answer: Consistency is the BBT motto! Consistency with the meals and workouts = success. The best thing for your journey would be to not compare yourself to others, and stay positive. Building isn't an easy process, but I want to help you in every way I can !
Question: What does my order come with?
Answer: With your purchase you receive 4 mini-ebooks! One is the Knowledge and Advice section, the APP guide, the Workout Section, and the Nutrition Guide!