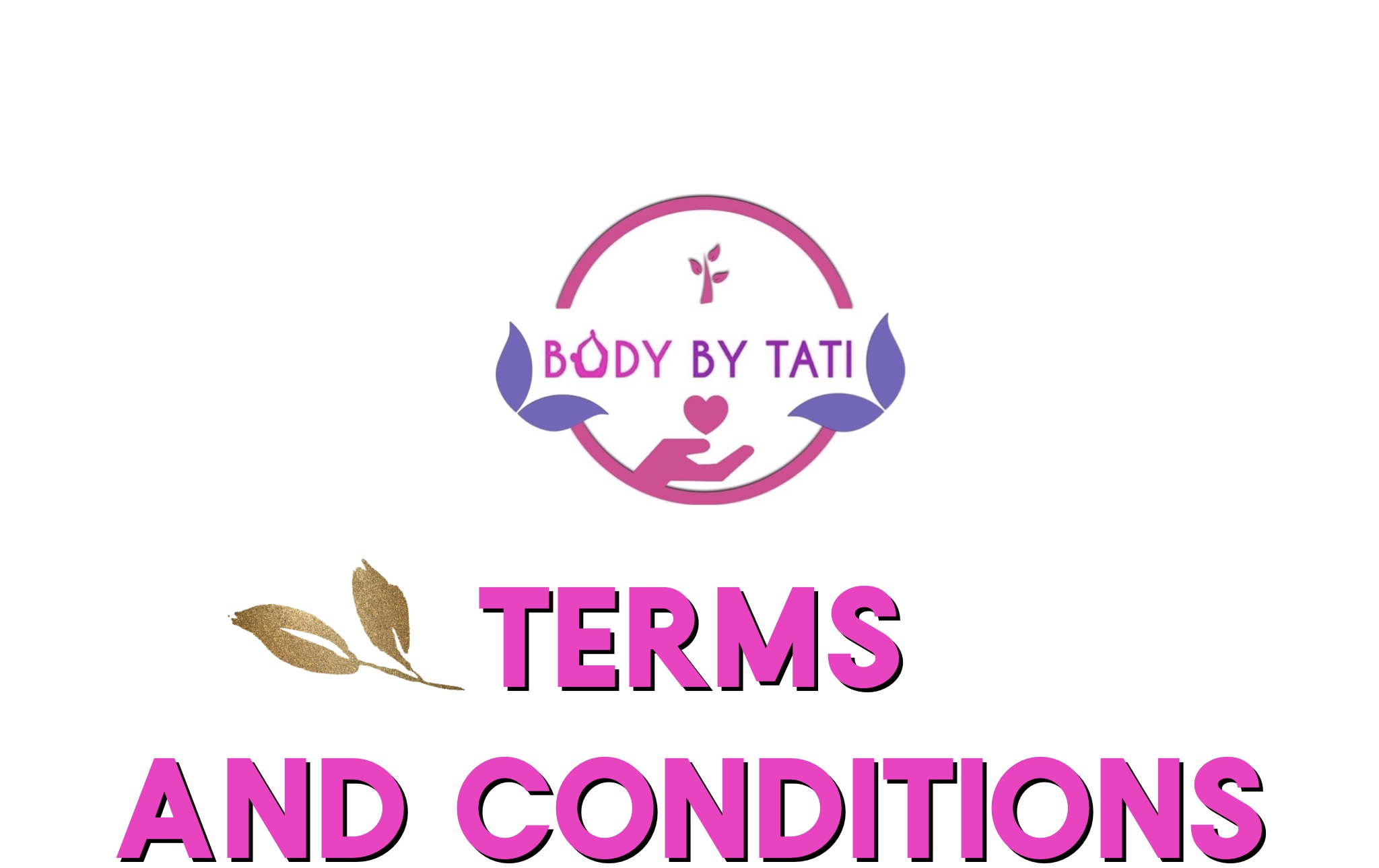 LEGAL MEDICAL DISCLAIMER: Understand that BodyByTati is not a licensed medical care provider and has no expertise in diagnosing, examining, or treating medical conditions of any kind, or in determining the effect of any specific exercise on a medical condition. Ebooks/Programs are NOT meant as a substitute for medical advice. If you have any condition of any kind, please consult with a medical professional before taking part in my ebooks/programs. If you decide to take part, despite any medical condition or physical condition that you have, without consulting with a medical professional, you agree that BodyByTati will not be held liable.
LEGAL EXERCISE DISCLAIMER: You should understand that when participating in any exercise or exercise program, there is the possibility of physical injury. It is possible that you may become injured doing the exercises in your program, especially if they are done with poor form. Although thorough instruction is included on form for each exercise, realize that BodyByTati's programs/ebooks (like any other exercise program) does involve a risk of injury. If you choose to participate and follow any exercise guide provided by BodyByTati, you do so on your own free will and accord, knowingly and voluntarily assuming all risks associated with such exercise activities. These risks may also exist for those who are currently in good health right now. You agree that BodyByTati will not be held liable for any injuries or issues obtained that are directly or indirectly related to the use of one my ebooks/programs.
TESTIMONIAL DISCLAIMER: Understand that you are not required to share your progress with BodyByTati, however if you do, your results will be private unless you give consent to BodyByTati to make them public. All the transformations and testimonials are real and all clients represented in the photos are current or past clients of BodyByTati
REFUND POLICY DISCLAIMER: Understand that all purchases are final. In the event that you are not satisfied with your ebook, you understand that BodyByTati does not issue refunds. In the event that you lose access to your ebook, BodyByTati can send you another copy of your pdf.
CONTACTING BODYBYTATI DISCLAIMER: Understand that BodyByTati receives hundreds of emails and dms a week and that due to the high demand of her inquiries and services, it can take anywhere in between 12hrs-72hrs to receive a response from her. Your patience is appreciated.
LIABILITY DISCLAIMER: Subject to the rights granted to you by statutory consumer protection legislation, which cannot be excluded, in no event shall we be liable to you for any injury, or incidental, undue damages, whatsoever including damages for loss of income, data, or personal injury or consequential damages except to the extent such limitation or exclusion of liability is not permitted by law.